Mount Monadnock
Otro fin de semana, otra excursión a las montañas -- esta vez a Mt. Monadnock en el estado de Nuevo Hampshire. Esperaba un fácil paseo, pero me encontré agarrandose a las piedras para mi supervivencia. Por supuesto, habían varios niños pequeños subiendo la montaña sin miedo para avergonzarme. Confieso que a veces quería sentarme en una piedra y llorar. Ahora sé que padezco acrifobia. No obstante, la panorama de la cumbre era fantástica -- 360 grados. Aquí tienen unas fotografías:
Another weekend, another outing to the mountains -- this time to Mt. Monadnock in the state of New Hampshire. I was expecting an easy walk, but I found myself latching onto rocks for dear life. Of course, there were various little kids running up the mountain without fear to put me to shame. I confess that sometimes I wanted to sit on a rock and cry. Now I know that I suffer from acriphobia. Nevertheless, the view from the summit was fantastic -- 360 degrees. Here are some photographs:
Una osa atando los cordones de zapatos.
A bear tying her shoelaces.

El camino rocoso de la montaña.
The rocky mountain path.

Otra marca del Servicio Geologico de los Estados Unidos en la cumbre de la montaña.
Another U.S. Geological Survey marker on the summit of the mountain.

La Caminata del Fin de Semana Pasada
El fin de semana pasada, fui a Middlesex Fells Reservacion, una corta distancia de Boston. Aqui tienes una mapa del parque. Nuestro excursion esta indicada con los puntos rojos:
Last weekend, we went to Middlesex Fells Reservation, a short distance from Boston. Here is a map of the park. Our route is indicated with the red dots:

Aqui tienes unas fotografias de nuestra caminata:
Here are some photos of our hike:


A photo from Pine Hill (you can see downtown Boston in the distance).
Una foto desde Colina de Pino (se puede ver el centro de Boston a lo lejos).
We found this US Geological Survey marker on a rock on Pine Hill.
Encontramos esta marca del Servicio Geologico de los Estados Unidos en una piedra en Colina de Pino.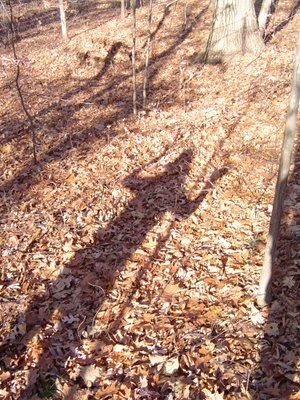 La sombra de un arbol que se parece a un ser humano (solo una broma).
The shadow of a tree that looks like a human being (just kidding).


Autumn leaves.
Hojas de otoño.
El Embalse Fells. Una panorama tranquila.
The Fells Reservoir. A peaceful scene.
Sensorium
Este sabado pasado, fui con un amigo al museo "Sensorium" en el
MIT List Centro de Artes Visuales
. Si tu estas en la area de Boston/Cambridge o planeas visitar aqui pronto, te recomiendo que no leas mas adelante. Vale la pena visitar este museo, y no quiero estropearlo para tu. Desde aqui, voy a escribir de mi experiencia alli.
Primero, dimos un paso en una estacion espacial inspirada por la pelicula "2001: Una Odisea Espacial" -- una obra por el artista frances, Mathieu Briand. En una pared, habia una gran pantalla con una vista de la Tierra desde la perspectiva de espacio. Habian cascos que nos pusimos en grupos de 4 personas: tienen lentes que eran pequenas pantallas de television, y auriculares cubriendo las orejas. En las manos, llevamos aparatos de mando -- cada con un boton. Cuando empuje el boton, la vista en las pantallas cambio desde mi propio perspectiva a la perspectiva de mi amigo. Cuando empuje el boton otra vez, la vista cambio a la perspectiva de una tercera persona, etc.
La segunda exhibicion era muy divertida, un poco asquerosa. A primera vista, la obra consistio de nueve paneles de pared blanca. Casi pase al proximo cuarto, porque pense que este cuarto no contuviera nada. Una pancarta en la pared explico la obra: la artista, Sissel Tolaas de Noruega, habia analizado la composicion quimica del sudor de nueve personas en un momento de miedo. Entonces, recreo versiones sinteticas de los sudores, las mezclo con pintura blanca y pinto las paredes con la mezcla. El resultado era paredes "Scratch 'n Sniff", pero con los olores de varios sudores. Uno de los sudores olio de almizcle, otro de basura, otro de cilantro. Despues de varios horas, empezamos tener un poco de nausea del hedor que impregno todo el museo. Pero valio la pena!
La quinta exhibicion era una produccion musical de los canadienses artistas Janet Cardiff y George Bures Miller. El escenario era una cabana remota, no lejos de la via del tren. Con todadiscos, varios altavoces y la grabacion de un hombre con una voz aspera y respiracion pesada, los artistas podian crear el sentido de un pinchadiscos vivo, con discos fonograficos de varios tipos de musica. El resultado -- un concierto impresionante y espectaculo de luces.
Habian otras exhibiciones, pero esta descripcion te da un vislumbre de las maravillas del Sensorium de MIT.
This past Saturday, I went with a friend to the Sensorium museum in MIT's List Center for the Visual Arts. If you are in the Boston/Cambridge area, or plan to visit here soon, I recommend that you read no further. It is worth it to visit this museum, and I don't want to ruin it for you. From here, I'm going to write about my experience there.
First, we stepped into a space station inspired by the movie "2001: A Space Odyssey" -- a work by the French artist Mathieu Briand. On the wall, there was a big screen with a view of the Earth from the perspective of space. There were helmets that we put on in groups of four people: they had lenses that were small television screens and headphones covering the ears. In our hands, we held control devices -- each with a button. When I pressed the button, the view on the screens changed from my own perspective to the perspective of my friend. When I pressed the button again, the view changed to the perspective of a third person, etc.
The second exhibit was very fun, a little disgusting. At first glance, the work consisted of nine panels of white wall. I almost passed to the next room, because I thought this room contained nothing. A placard on the wall explained the work: the artist, Sissel Tolaas of Norway, had analyzed the chemical composition of the sweat of nine people in a moment of fear. Then she created synthetic versions of the sweats, mixed them with paint and painted the walls with the mixture. The result was "Scratch 'n Sniff" walls, but with the scents of various sweats. One of the sweats smelled of musk, another of garbage, another of cilantro. After several hours, we began to feel a bit nauseous from the stench that pervaded the entire museum. But it was worth it!
The fifth exhibit was a musical production of the Canadian artists Janet Cardiff and George Bures Miller. The scene was a remote cabin, not far from the train tracks. With phonograpsh, various speakers and a recording of a man with a gruff voice and heaving breathing, the artists were able to create the feeling of a living disc jockey, with records of various types of music. The result -- a spectacular concert and light show.
There were other exhibits, but this description gives you a glimpse at the marvels of the MIT Sensorium.