La Caminata del Fin de Semana Pasada
El fin de semana pasada, fui a Middlesex Fells Reservacion, una corta distancia de Boston. Aqui tienes una mapa del parque. Nuestro excursion esta indicada con los puntos rojos:
Last weekend, we went to Middlesex Fells Reservation, a short distance from Boston. Here is a map of the park. Our route is indicated with the red dots:

Aqui tienes unas fotografias de nuestra caminata:
Here are some photos of our hike:


A photo from Pine Hill (you can see downtown Boston in the distance).
Una foto desde Colina de Pino (se puede ver el centro de Boston a lo lejos).
We found this US Geological Survey marker on a rock on Pine Hill.
Encontramos esta marca del Servicio Geologico de los Estados Unidos en una piedra en Colina de Pino.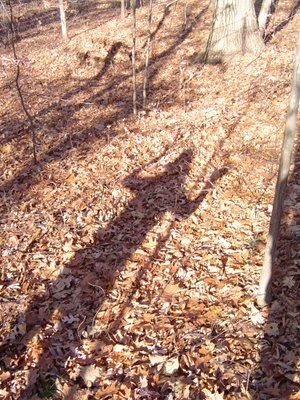 La sombra de un arbol que se parece a un ser humano (solo una broma).
The shadow of a tree that looks like a human being (just kidding).


Autumn leaves.
Hojas de otoño.
El Embalse Fells. Una panorama tranquila.
The Fells Reservoir. A peaceful scene.